2021-2022
TRADE SATURDAY Oct. 23
+++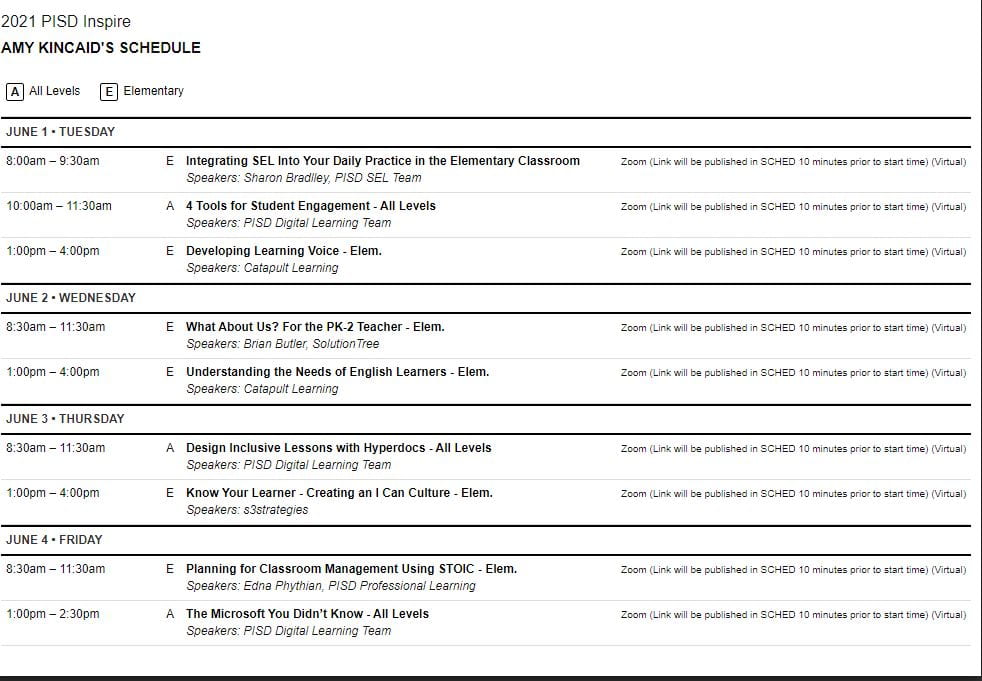 x Microsoft
6/4 Tina Boogren Class- Self Care 3 hrs
+++
6 hrs (1 hr prereq course)
+++
OUTSIDE HOURS
N Tx Lib Camp 2021-7 hours
______
____
2020-2021 PD
need 15 hrs…?
5.26 TEAMS 1.5 hrs
6.4 Librarian ETSI 5 hrs
6.11 Digital Presentation Tools 1.5
6. 11  Nearpod 1.5
6.15 User Friendly Google Classroom 1.5
6.16 Cultural Competence 3 hrs
6.17 Create an Anywhere, Anytime Classroom – Elementary 3 hrs.
6.17 Creating Positive Classroom Culture for Students with Significant Behavior Support Needs 3 hrs
6.23 Kami 1.5 hr
7.8 HyperDocs 1.5 hr 
7.14 Digital Breakouts 1.5 hr
7.15 Advanced Google Tools 1.5 hr
7.27 Preparing Your Classroom for School@Home 2 hrs
7.30 Simple K12: Lesser Known Navigation Tips for Making the Most of Google Classroom .5
OUTSIDE HRS
FRI 5.29 EDCAMP   Eventbrite Edcamp: Powerful Learning at Home 1.25 and 1.25 
6.17 Kahoot EDU Summit    – 6 hrs
7.8  Remote learning Strategies to Support Patterns of Power Plus- Jeff Anderson and Whitney LaRocca -Stenhouse Webinars -1 hr
7.29 Teach with Tech CON– 5 hrs
8.1    Seesaw Ambassador Update – 1.5 hr
School Library Journal Virtual Summit: Antiracism – 3 hr
TPG/SLO: I use online library journals, blogs, and reputable social media resources to build a quality multicultural literature to the Jackson Library so that students see themselves represented and empathize with others not like themselves by reading diverse literature in the library collection.
By the end of the year, more books will be circulated because students will be excited to read the books that feature main characters who look like them. Student engagement will increase with lessons centered around diverse literature.
2019-2020 PD

Summer

+ 3 hrs: Coding w Robotics w K-2 (Malloy) – Murphy, TX
Summer 2018 PD
TCEA Region 10/11 Tech Conference
McKinney Converge Digital Learning Festival
June 20-21

July 17-18 Braswell H.S.
July 21, 2018 PISD 4 hours
Chromebooks Basics Part 1
Chromebooks Advanced  Part 2
2 hours
Professional Development
Fall 2018