A Week Standardization Schedule
B Week Standardization Schedule
************************************************************************************************************************************************
A 29 UMANA Mon, Toledo came Fri (U o)
NEW dentist
N4 Spirit Assembly
N11 Veterans Day a
A Oct 17-21 TRADE SAT – dentist Tues 18
new- sub sched
B O 24-28 MULTI night, bk parade , abs 26th h
Week a Oct 31- Nov. 4 assembly fri
x lac x dane cox lac
x dane lac
Week bNov. 7-11 – Veterans Day assembly Fri
Week a  Nov.  14-1 BOOK FAIR WEEK – book selection lesson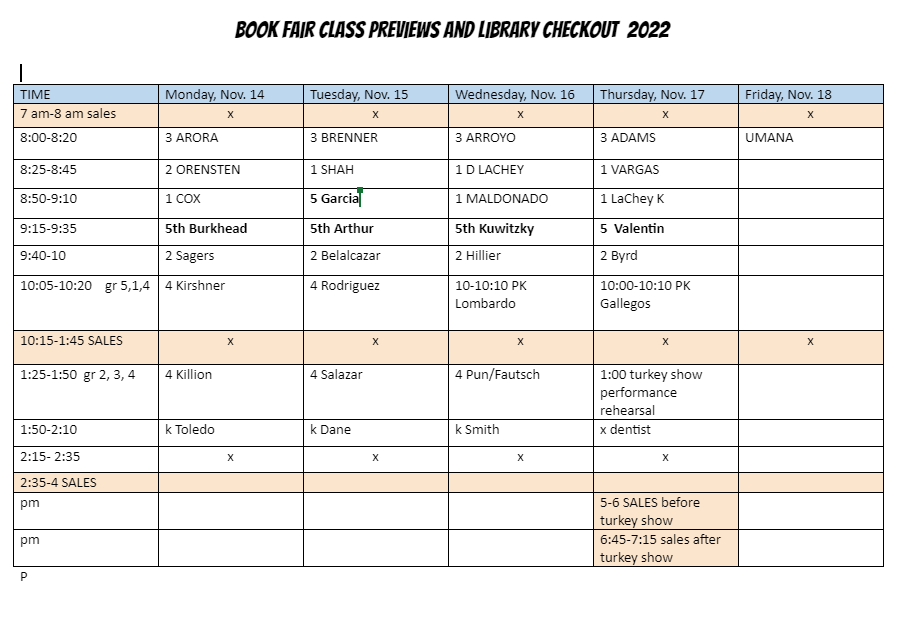 TG
B Nov. 28-D2  Spa Sp Bee pm 1:00-1:50. K-5 spirit assembly 1:50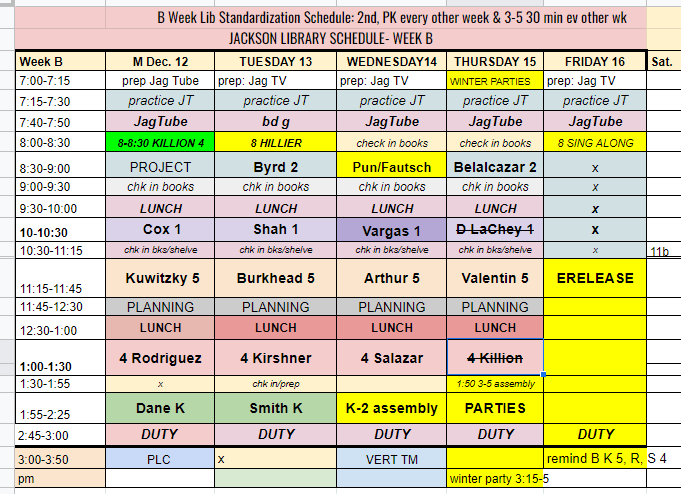 NOTE FOR NEXT YEAR NO CLASSES FIRST WK JAN – COUNS SCHED ev other week
NEW SCHED Jan 9 COUNSELORS project
DANE fire drills messed up didn't come Tues 
J 9 45
below no – only saw MON- TUES classes
wk a Jan 17-20 MLK holiday  NO
NEW SCHED MLK HOLIDAY COUNSELORS project
J 17 45
Wk Jan 23 – 3rd
wk Jan 30 45 = NO SCHOOL SNOW WEEK
wk a  Feb 6 3 – 3rd – 5 qco Tues Wed, 4 qco Thurs A couns
CHECK OUT MAKEUPS
T-Th = 5th – B/K double- send 2-3 at a time 11:15-12:15 TUES with Arroyo
W- A/K double – send 2-3 at a time 11:15-12:15 WED with Adams
Th- Val and Garcia send 2-3 at a time 11:15-11:45 TH with Arora
1:00-1:30 – 4th 2-3 at a time Kirshner TUES
Salazar/Rodr- WED
Killion/Bandasias THURS
Since y'all missed last week because of the snow week, let's do this:Have your kids return their books to the carts tomorrow morning.
Then Belalcazar- send 2-3 at a time to check out WEDNESDAY during Sager's class 8:20-8:50
Then Byrd  send 2-3 at a time to check out THURSDAY during Hillier's class 8:20-8:50
They'll choose books and I'll put their name card in them and make a stack.  Then they'll go back to class without books. As soon as this week's class leaves, I'll check those books out, put sticky notes on them, and bring them to your classrooms.They will not be able to check out if they owe anything.
SPRING BREAK
March 13- PDH day Monday – week A 
COUNSELOR
Here are the A/B week of dates. As we discussed earlier, we will not have classes the week we return from winter break since its only 3 days. There is a week in Oct. where we will have students for 3 days and possibly in April (depending on if we need a bad weather make up day) but we will not skip these weeks. Its up to you if you want to make up those classes that fall on the holiday.  SNOW week- act as if we didn't have it (skip) B B
A Weeks (the date is the Monday of the week):
8/22; 9/5; 9/19; 10/3; 10/17; 10/31; 11/14; 12/5; 1/9; 1/23; 2/6; 2/20; 3/13; 3/27; 4/10; 5/8
B Weeks (the date is the Monday of the week)::
8/29; 9/12; 9/26; 10/10; 10/24; 11/7; 11/28; 12/12; 1/16; 1/30; 2/13; 2/27; 3/20; 4/3; 4/23; 5/15
No classes the week of:
1/2- 6       Students return from winter break
4/17- 21  STAAR testing
5/1- 5      STAAR testing
=============================================================================================================
no
Full ?2nd semester?
BACKUP NEW SCHEDULES
OLd