Master Sched
Week B – switch Vargas to 11:30
wk B- switch Vargas to 11:30
COUNSELORS
A – Aug. 23-27 – assembly Mon.
Paradiso at 11:30 THURS
Levin 11
subbed 9/3 pm x
wk A: Sept. 8, 9, 10 – picture day
FRI 12:30 Ms. Carthledge GOAL MEETING 😎
How to add diagonal lines to sheets
RED = SUBBING   CHART
+++pd
subbed TH pm h
Wk B: Sept. 27-Oct. 1 – STU OF MONTH BREAKFAST FRI AM
subbed 9/27 pm, Wed. 9/29 am, Fri. 10/1 pm H
original schedule
schedule alt
started Fautsch bil 3 1:oo Th
PK checked out above
no PK chk out abv
(added Fautsch)
Week A Oct. 18-22 – start weekly PK co
notified 10/17 of dist mtg 10/22 – canc classes- work on curric proj/M W visit
+++pd
PK  weekly CO
abs WED
sub 1/2 St 4 THURS pm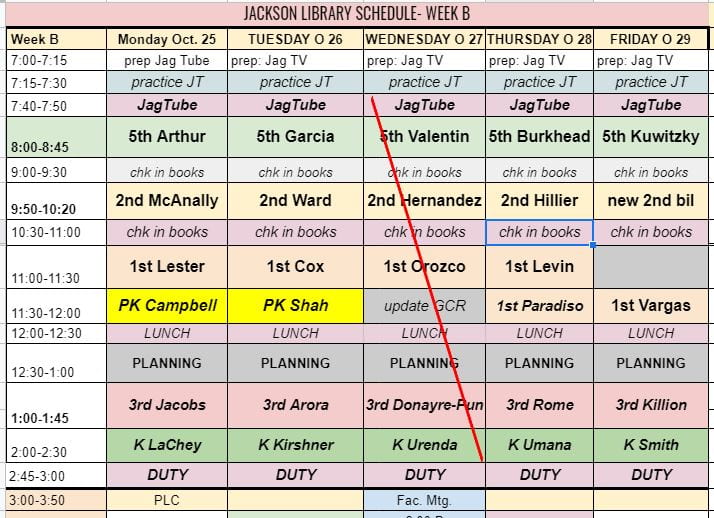 absences- full day Oct house, full day here dr appts
Sat B 1130
wk A Jan. 17-21 – start par nt 430-630 Th
wk B Jan. 24-28 – comp Th pm 430-630
Wk A J31-F4 – TELPAS – F 1
B Feb. 7-11 – adjust: parties?
\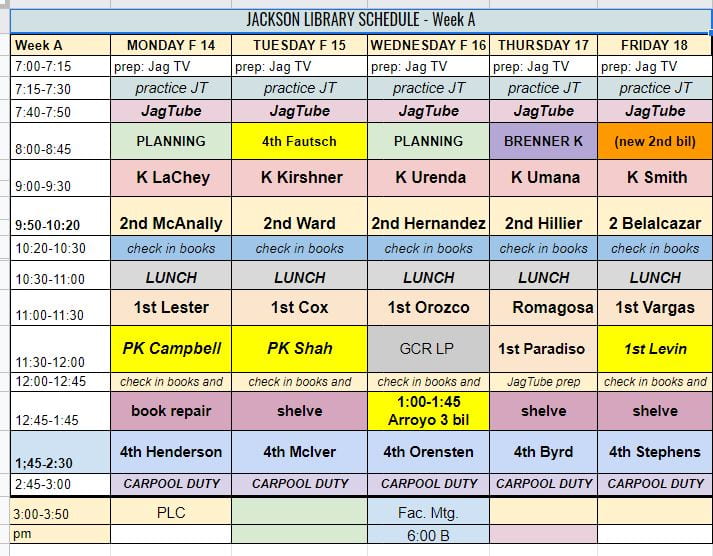 B holiday 21st, pd 22nd, F 23-25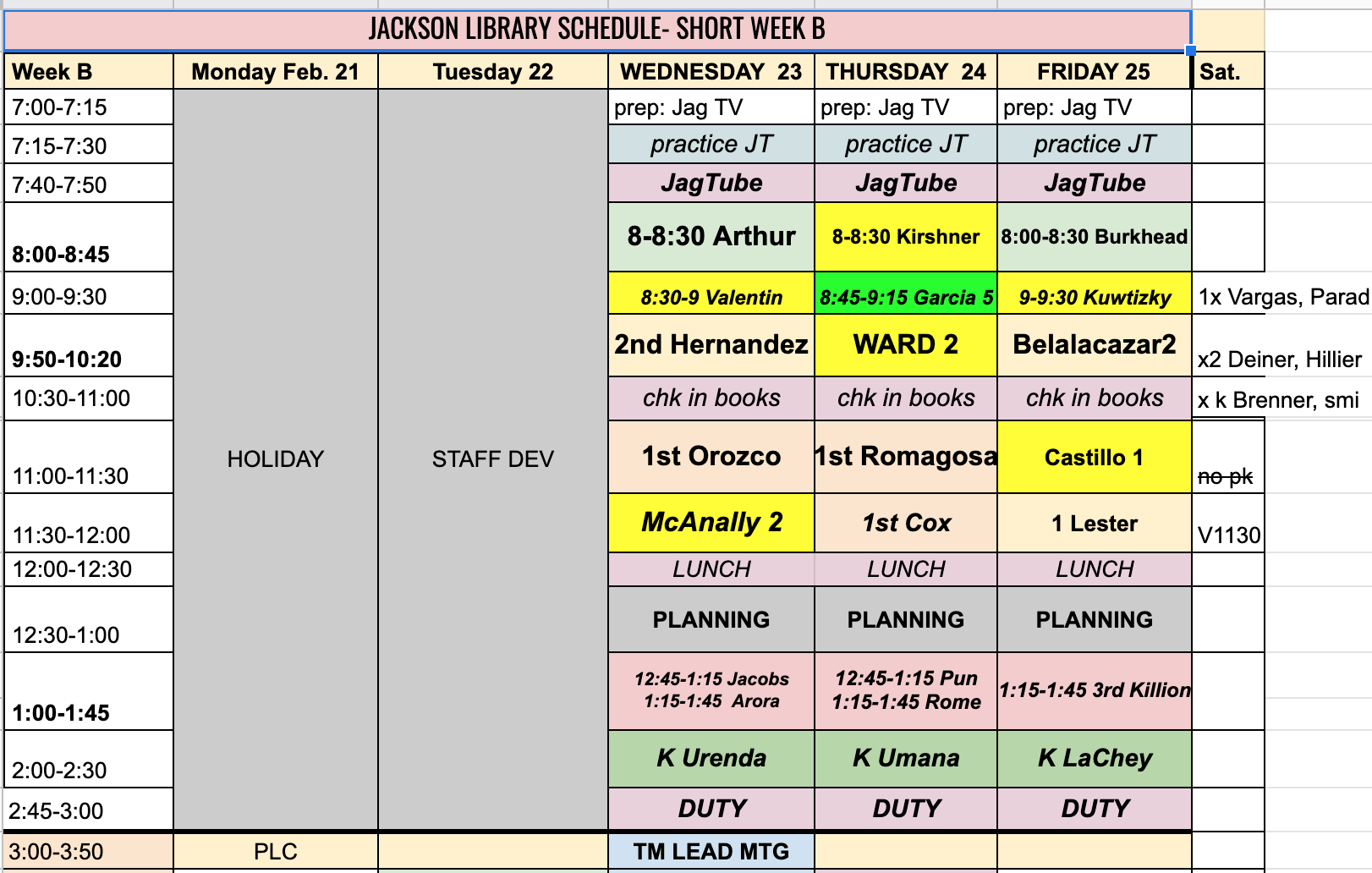 new class 8 Mon?  5th?
\
REVISED DUE TO SNOW DAY/ABS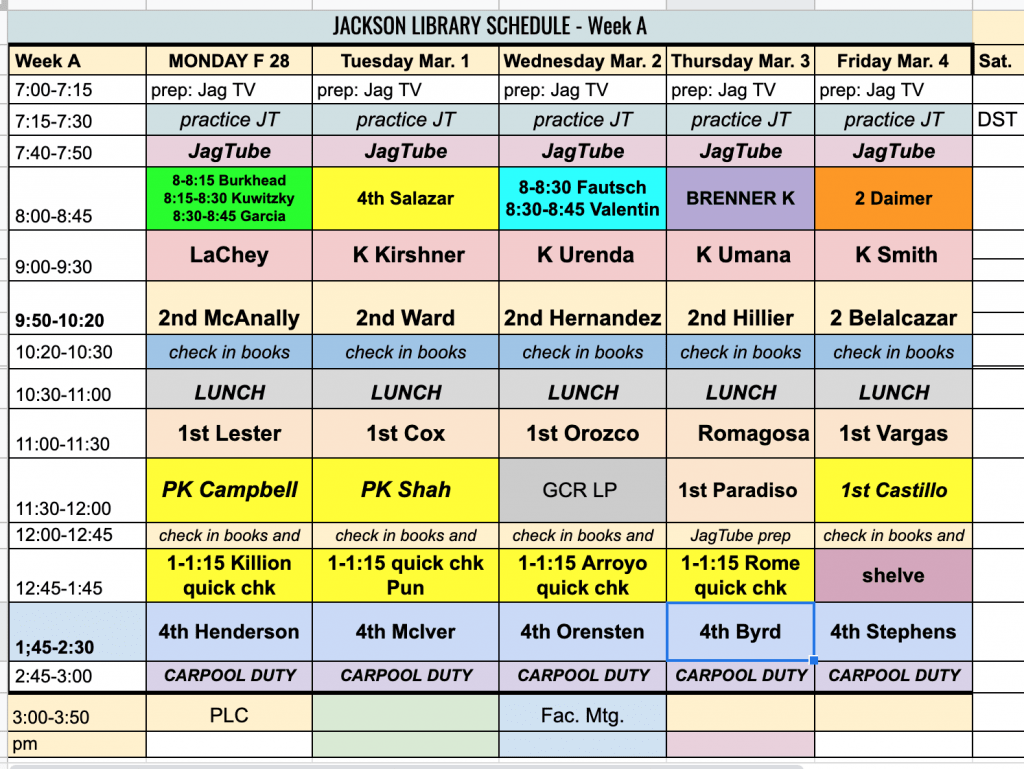 Arthur poetry only
oroz hdz arora – int chk, urenda- muneco
SPRING BREAK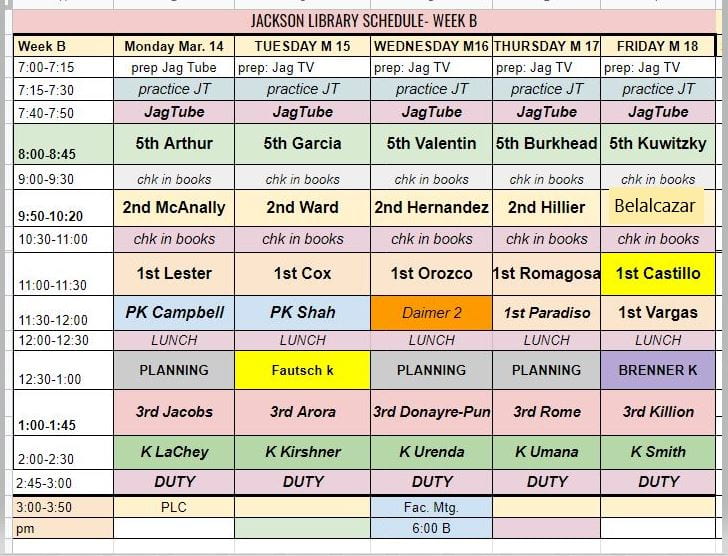 A Mar. 21-25 – Mar. 21 –8-10—- 5th grade principal's coffee
Lester missed field trip M 28 – now change A 25 miss week to Vargas miss
B April 11-15 – A 15 holiday  xk Fautsch x v1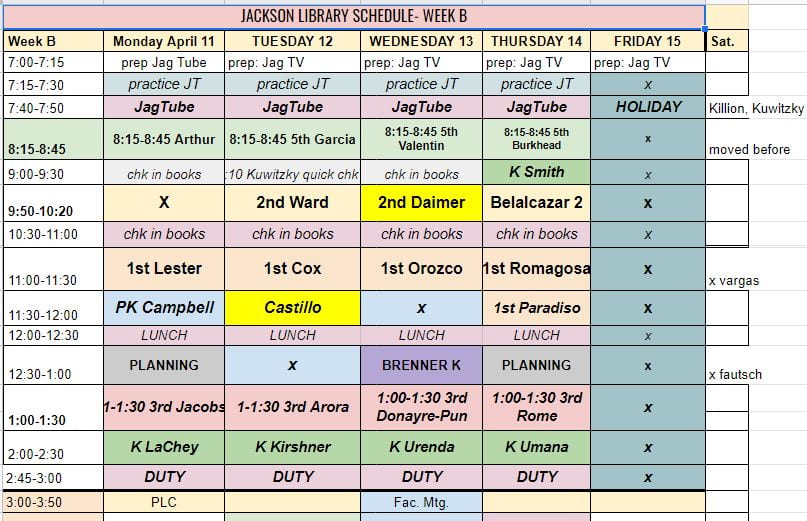 B April 25-29 – A 25 Mon PD  x K Brenner x1 Lester 2 ok (Hdz) xc1
+++++++++++++++++++++++++++++++
STU BOOKS DUE MAY 13
Administered STAAR Mon. 9-10
W RR mon
Mon RR mon
sick day Tues. 17
Wed. 2nd set notes
Th. 1/2 pm sub Orensten
pm work late -6:15 Sr Reunion
F sub all day- Sp Ed
Here are the A/B week of dates. As we discussed earlier, we will not have classes the week we return from winter break since its only 3 days. There is a week in Oct. where we will have students for 3 days and possibly in April (depending on if we need a bad weather make up day) but we will not skip these weeks. Its up to you if you want to make up those classes that fall on the holiday.
A Weeks (the date is the Monday of the week):
8/22; 9/5; 9/19; 10/3; 10/17; 10/31; 11/14; 12/5; 1/9; 1/23; 2/6; 2/20; 3/13; 3/27; 4/10; 5/8
B Weeks (the date is the Monday of the week)::
8/29; 9/12; 9/26; 10/10; 10/24; 11/7; 11/28; 12/12; 1/16; 1/30; 2/13; 2/27; 3/20; 4/3; 4/23; 5/15
No classes the week of:
1/2- 6       Students return from winter break
4/17- 21  STAAR testing
5/1- 5      STAAR testing